Schladming 2014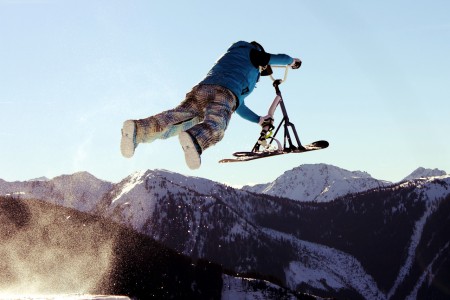 Winter season is almost over and this is right time for testing new PRO models for next season. Because here in czech mountains is still bad situation with snow we must look for some better place for our drollery. At first was our target Bad Gastein, but finally we choose Schladming which offers also one of best piste and snow park in Alps.
Our six-members group formed from four team riders, namely: Karel Raab, Adam Halbich, Honza Halbich and Kamil "Loda" Řezáč. The last two rideres accompanied their girlfriends, which both two rode also snowscoots SnowBaaR.
Weather was nice, every place where our eyes looked with twenty cm of powder couldn´t looks better and waiting for our first print from snowscoots.
Would be a sin go now to park if is here most of powder and therefore we started with freeride.
Adam started video shooting and we enjoy every bit of powder nobility. One course better then others so that we can not choose which to try first.
On saturday we finished up with photo shooting in powder and we were moving to snow park, which is on other side and where was everything ready for us.
Notice "Welcome to paradise" was really at right place. Many of jumps with different sizes and rails, as far as the eye could see and our presentation could start.
At first we started with caution but it did not take a long and began to fall many tricks like double can, 360, tailwhips, supermans and many many more.
When the day is over Adamok to his best trick and sent there huge backflip, unfortunately he minor slipped at jump and he had to get off involuntarily.
Every rider was pleasantly tired, so we enjoyed some of free rides and all of us went to our hotel.
Next day was with heavy snowfall and therefore we went again to freeride.
Photogallery from Schladming see below and video from Halba vids we bring as soon as possible...